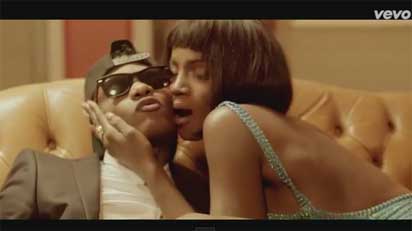 Budding Nollywood actress, Pascaline Alex doesn't mince words when it comes to our feelings about sex. The sexy actress has said one of the things that turn her on is sex. "Let me skip the 'Holier than thou' stuff, sex sometimes turn me on too. But good sex follows when your man is good" she says.
"I think it is between two matured people, sex should not be a forceful act. I think it's something that comes out from the mind, you want to do it and this person wants to do it, it's a neutral thing. I tell people sometimes that you don't have to force a lady or force a guy to have sex with you, it's just an attraction. It's just what the heart speaks and what you want to do at that moment. I see sex as a neutral thing; it's not a forceful act. I feel sad when I hear of rape in this our generation, it's not good. Sex is not rape; you don't have to put it in a rape kind of way so I think sex is a very neutral thing, it's a thing of the mind" she added.
When wave-making Yoruba actress, Seyi Edun expressed her preference for pre-marital sex in a chat with Potpourri a couple of months ago, the story went viral because when the actress talks many listen. As much as Seyi didn't so much fancy how people made a meal of the story, her view still echoes and continues to serve as a good word of wisdom to many youngsters.
"Sex is a good thing, we are all sexual beings. Our sexuality is linked with the rest of our lives. It's a sort of bond between two people, a form of expression that goes beyond the ordinary intimacy shared. It's a good thing" she says
"Once you are an adult and you think you are ready, go for it. Personally, I think sex before marriage is good. Because it will make you know your partner well before going into marriage. So, if there is anything you are not comfortable with, you have an ample time to correct it before actually going into the lifetime contract of marriage. Doing it before marriage also reduces adultery and fornication. It is also a good way of studying your partner before you get committed to him or her" she added.